The Lutheran Office of Public Policy - California Invites
Sierra Pacific Synod Assembly Participants & Area Residents
WE ARE CHURCH TOGETHER FOR THE SAKE OF THE WORLD:
THIS IS OUR NEIGHBORHOOD
WITH ERIC GUERRA, SACRAMENTO CITY COUNCIL
Join us for a hot buffet breakfast on June 2 at 7:00 am with speaker Eric Guerra, Sacramento City Council member, at St. John's in Sacramento. The cost is $15. Full details are shown below. Scroll down and fill out the Reservation & Payment Form to let us know if you will be there. Online registration deadline is May 30. After May 30, call or email Mark Carlson at 916.661.1910 or director@loppca.org.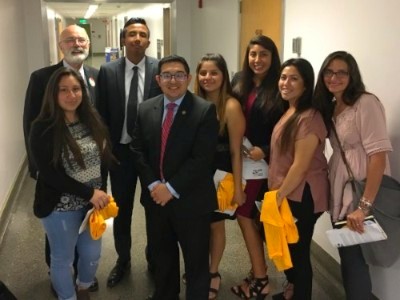 Date and Time:
Saturday, June 2, 2018
7:00 am-8:20 am
Location:
Oehler Hall
St. John's Lutheran Church
1701 L Street
Sacramento, CA
Ticket Price:
$15 Per Person
Schedule of Events:
7:00 am - Breakfast Catered by Steven Johnson, St. John's Lutheran
7:30 am-8:20 am - Speaker Eric Guerra, Sacramento City Council
About Council Member Eric Guerra:
Mr. Guerra has a compelling personal story as an immigrant child, growing up in a Yolo County farmworker family, who has overcome obstacles and now represents a fascinating district of southeast Sacramento that is challenged by poverty. Mr. Guerra inspired and informed attendees at the 2017 Family Promise dinner, and at a breakout dinner at St. John's Lutheran Church, sponsored by Pesticide Action Network, during the national convention of the Society of Environmental Journalists. Mr. Guerra represents Sacramento on the League of California Cities Board of Directors. He has over 13 years experience in staff roles at the California Legislature – meeting up in a Capitol hallway with a delegation of the Free Our Dreams Day at the Capitol that was accompanied by LOPP Director Mark Carlson.
For more information, contact:
Mark Carlson
Director of Lutheran Office of Public Policy-California
director@loppca.org
916.661.1910
---
RESERVATION & PAYMENT FORM
ONLINE REGISTRATION IS NOW CLOSED. CONTACT MARK CARLSON AT DIRECTOR@LOPPCA.ORG OR 916.661.1910 TO REGISTER.